Find resources and collaborators faster by linking to them directly in your notebook entries. Also referred to as mentioning, you can link to sequences, files, other notebook entries, and saved searches for quick access and to stay organized. Mention users, teams, and organizations to ensure work stream clarity, share datasets, or get feedback on results.
Mention a resource or collaborator
To add a link to a resource or collaborator profile:
Enter @ followed by the name of the resource or collaborator. You must enter at least three characters to prompt the search.
Select the resource or collaborator you want to link from the pop-up window. A chip displays with a link to the resource or collaborator profile.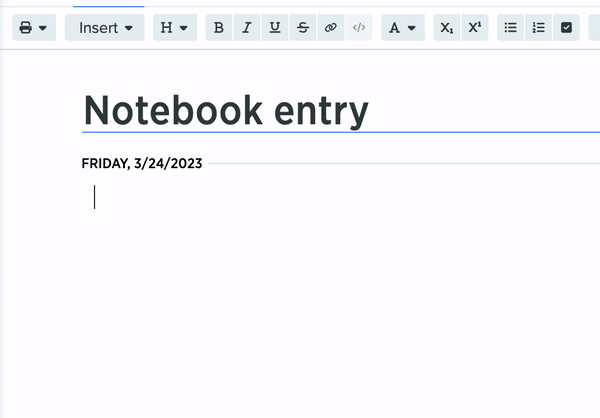 Tip: Press ⌘ and click the chip to open the linked resource or collaborator profile in a separate browser tab.
Mentioning collaborators
After mentioning a collaborator, they'll receive an email notifying them of the entry they were mentioned in.
Duplicating entries or creating entries from templates with existing links does not re-send notification emails to mentioned collaborators.
View the entries an entity is linked in
You can view a list of all the entries an entity is linked in the entity's Relevant Items tab. This tab displays notebook entries that mention the entity and any other linked biological entities.