When should I use Registry search?
Registry search should be used when searching for registered entities. Searching within the Registry will ensure that all unregistered Benchling files will be omitted from your search.
Navigate to Registry Search
In order to access Registry search, just navigate to the Registry and click on the Search bar located in the top of the side panel (below).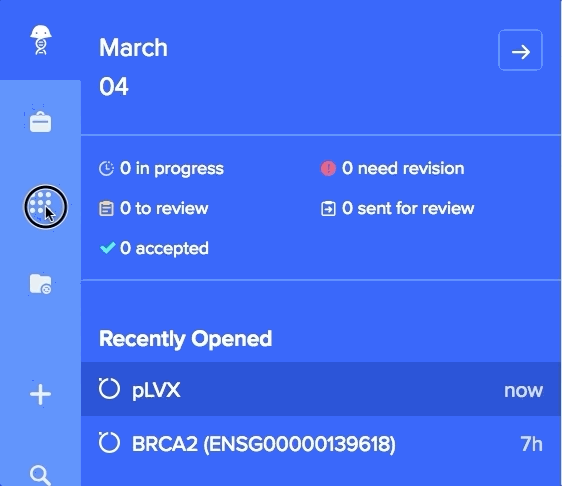 Use the Expanded View
Registry search is most powerful when accessed via expanded view. To do so, click on the 'expand' icon prior to initiating search (below).

Filter by entity type
If you know that the entity you're searching for belongs to a specific schema, you can filter by schema by clicking on the "Type:Entity" hyperlink and then select the schema of interest (below).

Add more filters
To add extra filters to your search, click on the "Filters" icon. From there, you can access a variety of filtering options (Field, Date Created, Author, etc). If you select 'field,' fields for all entities or for the entity you are viewing will be displayed. Benchling will even recognize if the data type is a dropdown (below)!

Adjust column size
When in expanded view, you can toggle the size of each individual column by click-dragging the edges of each column (below).
Sort by column values
You'll notice that if located adjacent to each column header is a sort icon. To sort by values of a specific column, simply click on the sort icon for the column you are trying to sort by.
Copy fields or Registry IDs in bulk
In expanded view, if you'd like to export Registry IDs or field values in bulk, just select the items you'd like to export and click on the "export icon" to access your export options (below).
If you choose to copy Registry IDs, you can navigate to any editor or spreadsheet software to paste copied Registry IDs.

Search by text value (a.k.a. "Fuzzy Search")
A text, or "Fuzzy" search is performed when you input text into the search box. After inputing text, Benchling will pull up all items in the Registry that contains the value that you entered (approximated search).
However, if when entering a field value (after filtering by Field), the text inputted must exactly match the entity field value (search is no longer approximated).