A Task schema determines the identity and behavior of a task group. To create workflow Task schemas, you must configure a Tasks table and an Outputs table to standardize its task requests and fulfillment. This article explains how to create a Task schema, add task and output fields, and how to configure the task lookup.
Getting started
You must have Admin access for your organization to create Task schemas.
Create a Task schema
To create a Task schema:
Click your initials in the bottom-left corner to access your settings.

In the menu, hover over Feature Settings and select Workflow Schemas.

On the Task Schemas page, click Create.

Complete the Task and Output sections, then click Create.
The table below describes the fields in the Tasks section.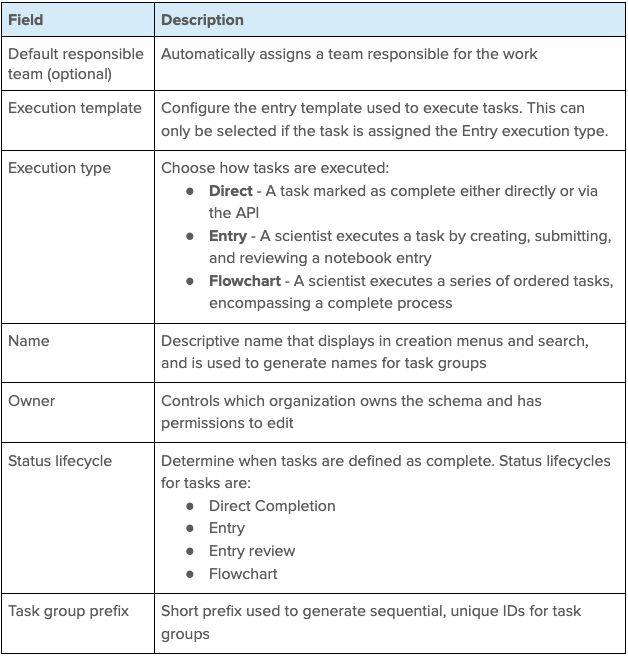 To configure an execution template, visit Configuring workflow execution templates.
To learn more about execution types and task status lifecycles, visit Creating task groups.
Add task and output fields
After creating a Task schema, complete the task and output fields.
Task fields specify the information a task requester completes when creating a task group. Output fields standardize the information the task fulfiller shares with the requester. To remove the output schema, click Remove output schema at the bottom of the page.
To add a task or output field:
Click the + icon next to Task fields or Output fields.

Complete the task field information:

Enter a field name.

Mark the field as Required or multi-select, if applicable.

Select the field type from the Definition drop-down menu.

Click ✔ to save. Add additional fields as needed.
Flowchart tasks require the user to configure additional information such as which tasks will make up the flowchart and how data will be mapped between them. To continue configuring a flowchart after creating the Task schema, visit Configuring flowchart Task schemas.
Configure the task lookup
If the task lookup is configured in the schema, the task fulfiller can automatically link an output to its associated task.
To configure the lookup:
Under Output → task lookup, click Configure.

In the Start from drop-down menu, select the output field that the lookup will start with.

To add more lookup steps, click Add lookup step, and use the search and filter to find Registry and Inventory relationships, then click Continue.

Select the object property, then select the task field the property matches to.

Click Done.