Welcome to the third volume of our 2022 product release notes! We've been working hard to bring you performance improvements that add value to your work. Read on to learn about the product enhancements and bug fixes released in March 2022.
Notebook
Benchling Notebook helps users log their experiments, create protocols, and capture results against their samples.
Entires cannot be submitted for review if a table is not submitted
Tables that are not submitted, such as being incomplete or containing errors, will prevent the entry from being submitted for review to an auditor.
To enable this feature, please contact a Benchling representative.
Table status shown in table header
A table status now displays in the table header, even when the table is collapsed.

Molecular Biology
Benchling's Molecular Biology is a cutting edge in silico design tool that supports the latest scientific workflows.
Modifications included on .pdf exports of oligos
Modifications are now reflected on .pdf exports of RNA and DNA oligo sequence maps.

Create modified oligos in bulk via registration tables
Users can now create modified oligos with bases and modifications via registration tables using HELM and IDT notations.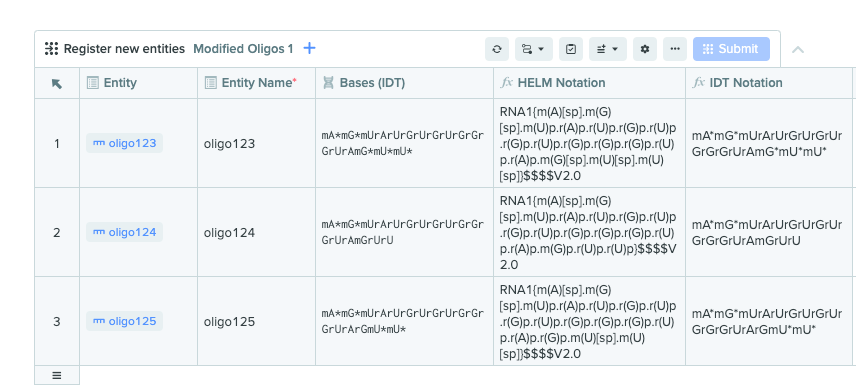 Registry and Inventory
The Registry and Inventory combine to form an extremely powerful solution for life sciences R&D samples. The Registry can be used to model and log any biological entities while the Inventory provides an interactive digital window into the physical storage system of your lab.
Record results against plate well positions
Users can now record results against a plate or a well with only a plate barcode or well position. A Results tab is now available on containers and box pages to view these results..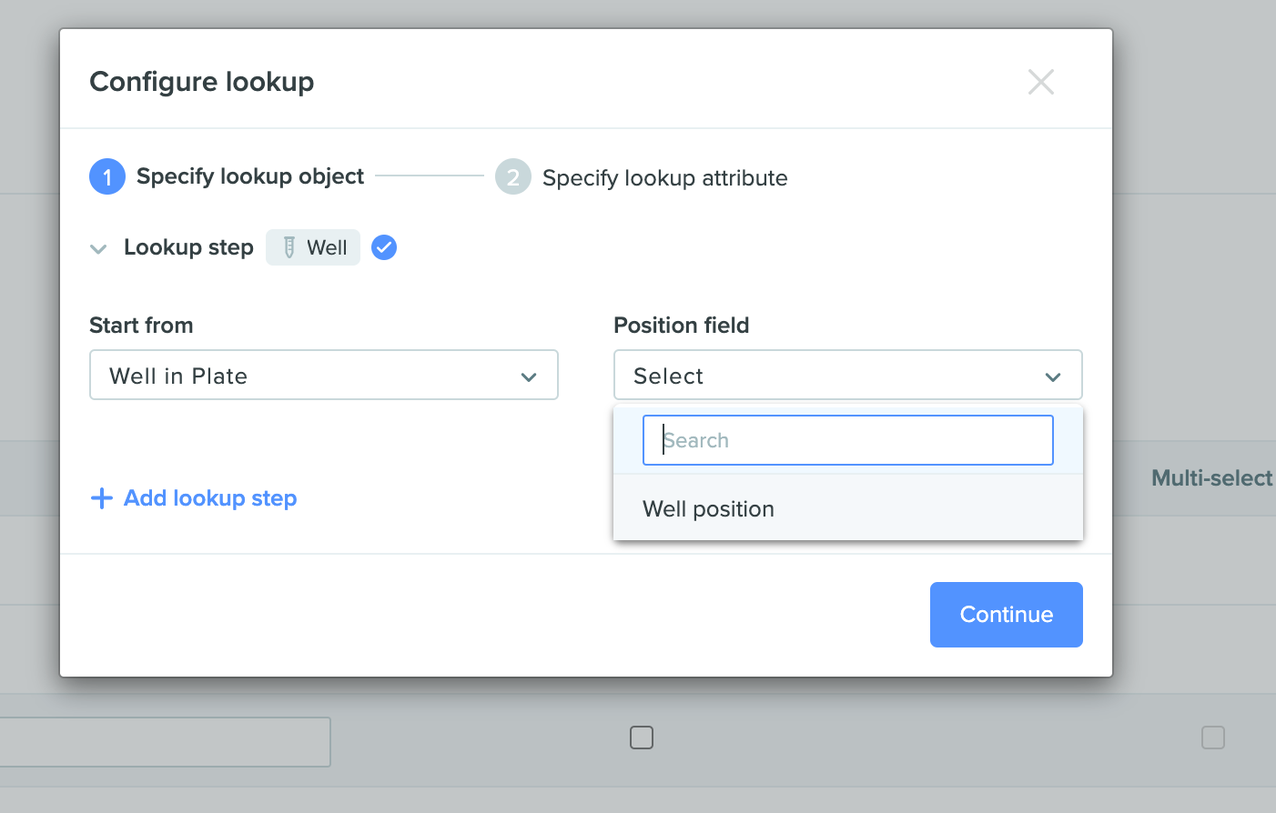 Lab Automation
Benchling for Lab Automation enables seamless integration of Benchling to liquid handlers, plate readers, imaging instruments, and more.
Create runs directly from modal
Users can now choose what options display in the run modal by checking Create run and/or Insert from inbox. By default, both are selected.

Drag files over the Upload button for output files
Users can now drag and drop any file onto the output file upload without needing to download the file.
File chunking for inventory uploads
Users can now upload inventory files of any size in Lab Automation. Benchling's new file chunking feature breaks up large files into smaller .csv files and processes them the same way it would process the file if it were smaller.
Application Core
Our application platform unifies the user experience and makes working across the Benchling applications seamless.
Audit trails for team creation
Team creation events now produce audit trails.
New options for workspace tab menu
Users can now right-click on workspace tabs to close a tab (Close) and close all tabs to the right of a tab (Close all to the Right).
Developer platform
Our developer platform is fundamental to centralizing and standardizing all your R&D data. Benchling's APIs and Events are built to match the flexibility and speed of modern life science R&D.
Create entry with contents API
Users can now test the Benchling alpha API for creating entries with pre-filled tables.
Bulk Create API endpoints have published item limits
Bulk Create API endpoints now have a published item limit of 2500.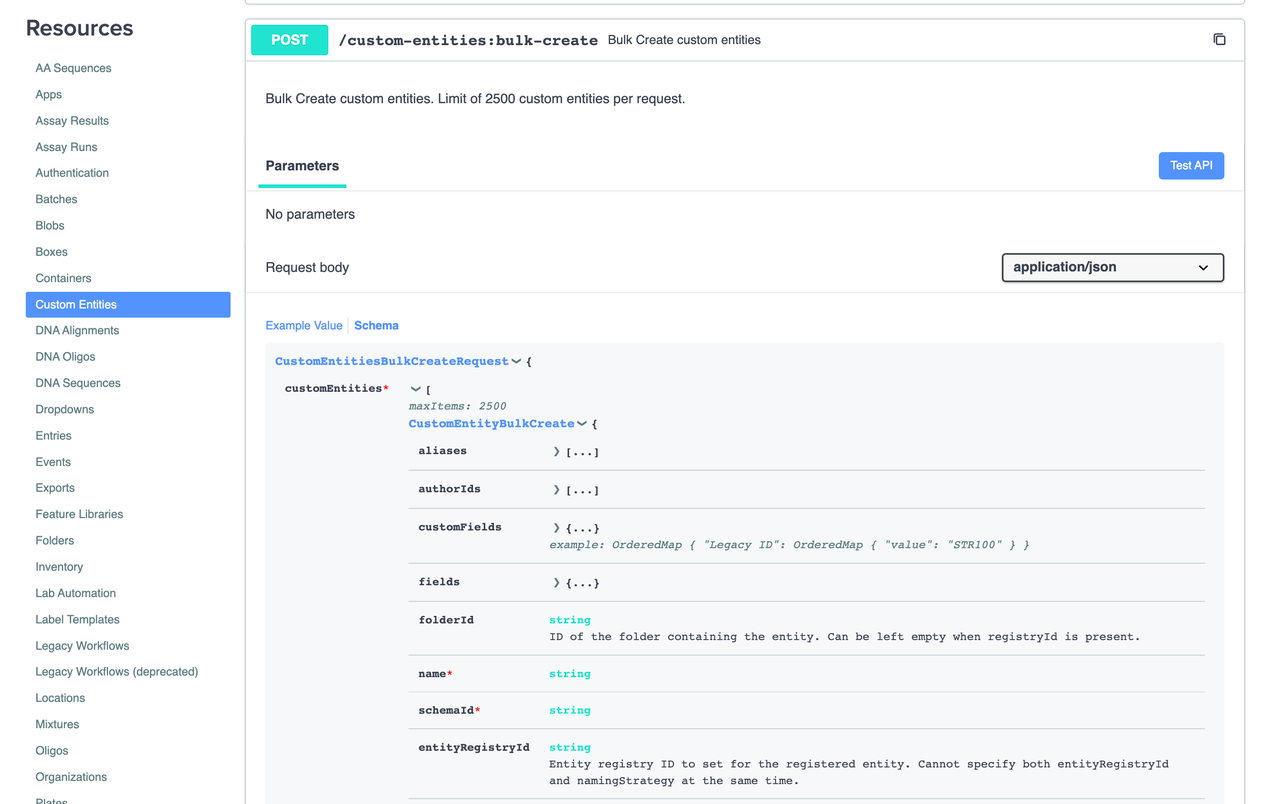 SDK Version 1.1.1 released
SDK Version 1.1.1. is now available, which improves user experience with OAuth and fixes specs for workflow tasks.
API support for bulk updating DNA oligos and RNA oligos
Additional API endpoints are available for bulk updating DNA and RNA oligos.
Bug Fixes
The following bugs were fixed in this release:
Workflows
The "Create workflow tasks" menu button was not viewable on screen

An issue with our UserAgent sniffer. An error message to update your browser no longer displays
Developer Platform
Endpoints incorrectly enforced container permissions

Returned the wrong schema validation error messages

Some apps were temporarily unable to authenticate for some users

Error handling of faulty .csv data when seeding table data

Generating OAuth3 tokens for certain apps