You can design and print labels for items in your tenant through the BarTender integration. This article explains what BarTender is, how it works with Benchling, and a high-level overview of how to set it up.
What is BarTender?
BarTender is a third-party label printing software application that supports a wide range of compliant, regulated industries. With BarTender, you can design labels and print from any computer connected to Benchling without manually uploading labels or installing software on each computer you're printing from. To purchase BarTender, visit seagullscientific.com.
After establishing BarTender on your network, you can set up and manage brands using many out-of-the-box options, and use a wide range of printers and labels to meet almost any needs within your lab.
How BarTender works with Benchling
BarTender runs on your local network. All communication with BarTender happens between your browser and the local BarTender server. This means your information and your printers aren't accessible to Benchling's servers.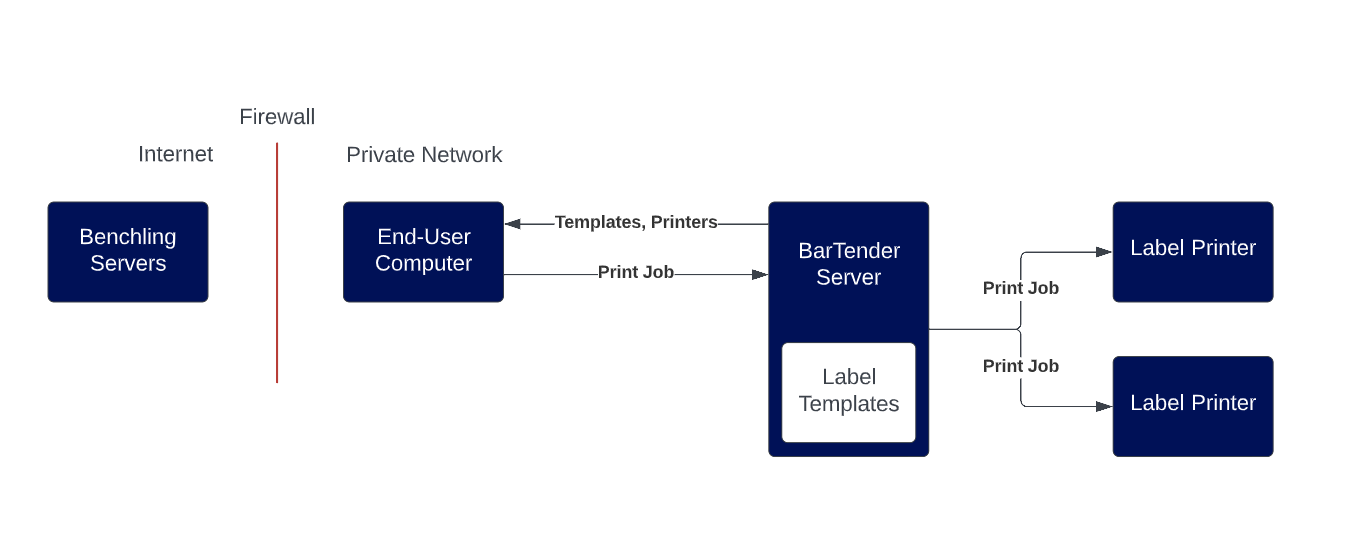 Integrating and using BarTender
To print labels using BarTender, you will:
Install BarTender on your servers
Ensure you have the required hardware, then install BarTender and your printer drivers. For steps, visit Installing BarTender.
If you already have BarTender installed on your servers, we recommend reviewing this article to ensure your installation supports the Benchling workflow.
Connect BarTender to Benchling
View the server configuration requirements, steps to add servers in Benchling, and select the printing method. For steps, visit Connecting BarTender to Benchling.
Create and manage BarTender label templates
Use BarTender's visual design software to create labels, add label elements and Benchling properties, and configure data entry forms. For steps, visit Creating and managing BarTender label templates.
Print labels
Print labels for items from tables in notebook entries, container details pages, search results, and more.