Summer is almost over and these past few months were filled with monumental change for our life science customers. Some pivoted their R&D teams to remote working, while others optimized shifts in the lab to continue operations, including many focused on COVID-19 related efforts.Benchling released dozens of new features and enhancements across all of our applications to continue driving our mission of accelerating life sciences R&D. One feature that we're really excited about is Worklists, which helps our customers work with large sample sets across Benchling. Read on to learn more about this and other new features below.
Worklists hits the accelerator with new productivity enhancements
What it is:
Worklists is a feature of our Inventory application that helps users work with large sets of samples such as entities, batches, containers, and plate. It saves scientists time and effort by facilitating bulk actions on large numbers of samples.
What's new:
With the most recent product release, Worklists now contains user interface updates and deeper integration across applications, all designed to save time and boost productivity.
New features that make it possible:
User interface enhancements: Users can now quickly remove items from the collapsed view of a Worklist, without the need to get into the expanded view to perform the same action. Users can sort through the items in a given Worklist and save their preferred sort order for the future. The column titled 'Position' marks the default display order of the entities in a Worklist. These updates remove the need for unnecessary clicks, help get the relevant actions done faster, and ultimately save time.
Right click to remove an item from a Worklist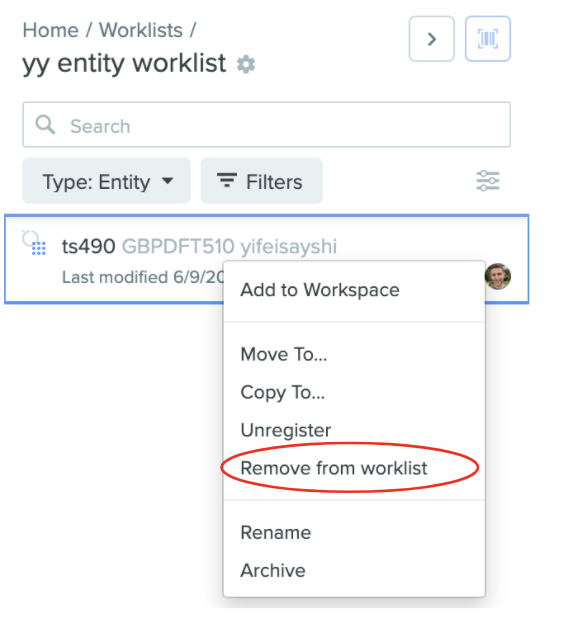 Save Worklist order based on column sort

Wider scanning capabilities: The use of a barcode scanner is the fastest and easiest way to add samples to Worklists. Until recently, Benchling supported the addition of containers only through scanning. With the new update, users can now scan entities and plates directly into Worklists as well. This significantly improves the user experience and makes it convenient to work with a much larger variety of samples in the lab.
Scan different sample types into Worklists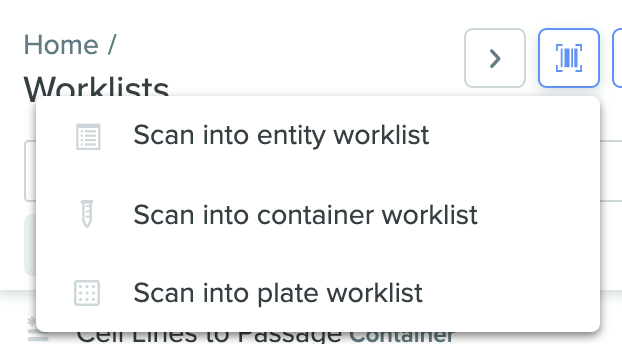 Deeper application integration: The true power of Worklists lies in how seamlessly embedded the feature is throughout our entire platform. This helps save time for users as tedious repetitive actions are streamlined into a single action that applies across a larger set of samples. Some of the new releases include:
- Molecular Biology: Users now have the option to add selected primers to Worklists directly from the primer panel. Additionally, an option to add to a Worklist upon DNA sequence import has also been enabled.
- Insights: Users can now add entities to a Worklist directly from the Insights tool.
- Plate Creation table: Users can now add to a Worklist from a Plate Creation table.
- Lab Automation: Users now have the option to use "Insert from worklist" and "Add from structured table" from schema-less storage_link fields in runs.
Add primers to Worklists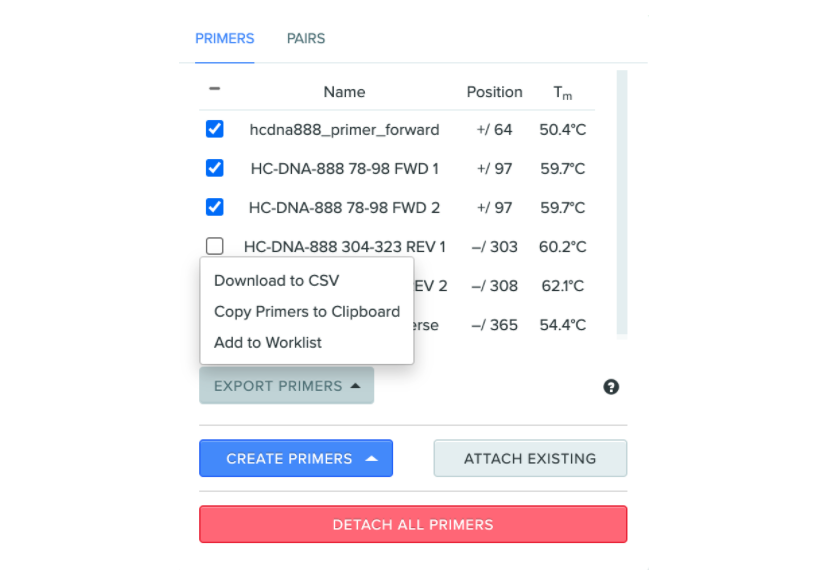 Add entities from Insights to Worklists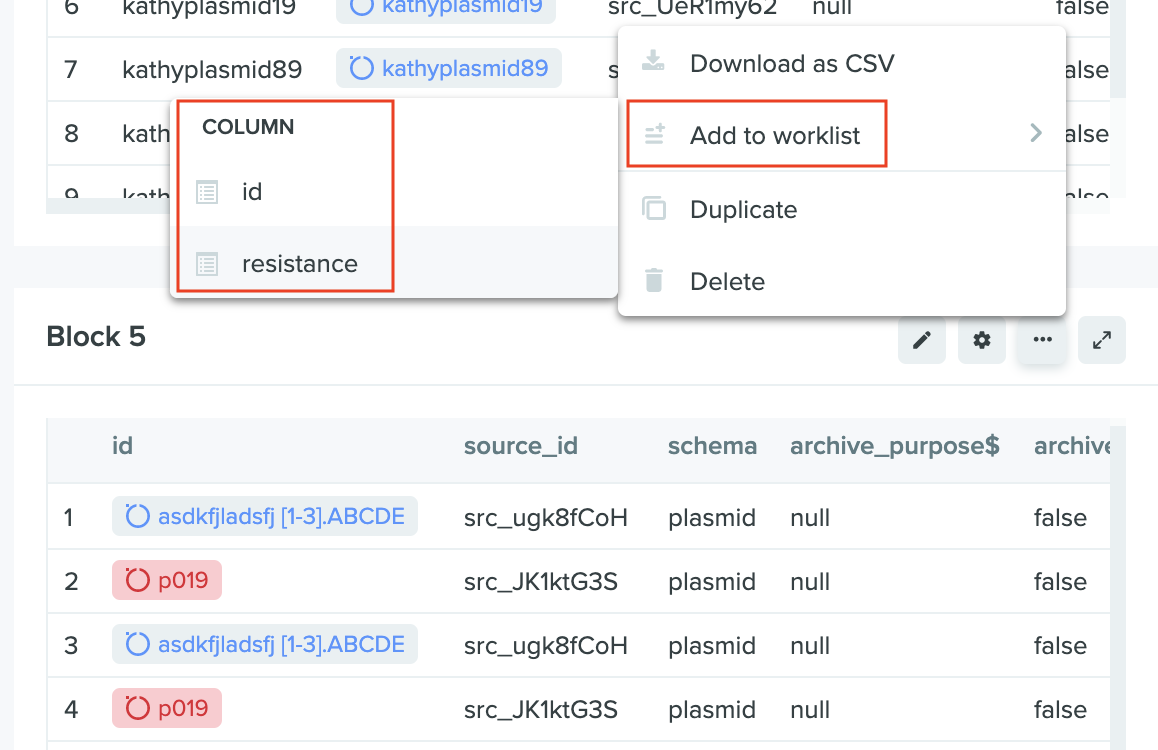 Add to Worklists from a Plate Creation table

What you can do with it:
Here are some examples of how the new features of Worklists can help different R&D functions.
Plasmid design: Import libraries of plasmids and add to a Worklist during the import and registration process, consolidating a typically two step process into a single step. This Worklist can be used to import all the contained plasmids into Bulk Assembly for high throughput combinatorial plasmid design. The output of a Bulk Assembly run can also be uploaded to a Worklist for further research use.

Fermentation scale up: Use Insights dashboard to evaluate strain performance under various fermentation conditions and process parameters. Export the strain IDs from the dashboard into a Worklist. Remove any of the unwanted strains from the Worklist to create a focused list of the most promising strains. Use the Worklist to set up scale up culture runs in a Notebook entry.

In vitro testing: Scan samples from a plate into Benchling with a barcode scanner. Create assay testing Notebook entries and import samples from the Worklist into Results tables. Perform assays and record assay results against the samples. Use Insights or Registry to view and analyze assay results recorded against the samples.
Find more information about Worklists here.
NOTEBOOK
Benchling's Notebook was designed to promote higher quality data capture with an exceptional and intuitive user experience. Recent releases improve the usability and aesthetics of plate creation tables, tooltips, and visual cues in the product.
Easier Set Up Of Plate Creation Tables
Plate creation tables are the easiest way to add and manage multi-well plate-based samples in a structured manner in the Benchling Notebook. With the recent releases we make it even easier to quickly set up plates without errors and add plate-based samples to Worklists for further bulk actions across the platform. The specific updates include:
- Preview the Plate Creation table before inserting into a Notebook entry
- Add items to a Worklist directly from a Plate Creation table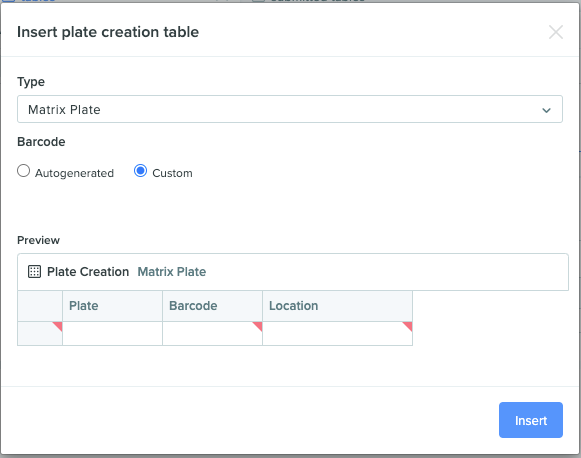 Newer More Useful Tooltips
Tooltips are an important tool to provide additional information and context to users. As part of the recent releases we have expanded the use of tooltips throughout the Notebook making the product more user friendly and accessible. Specific updates include:
- Messages on tables will now provide more context to users on why the entities in a table cannot be submitted
- Improved tooltips for icons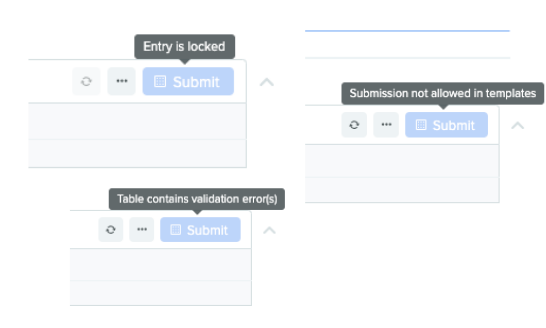 Improved Visual Cues For Table Of Contents And Registration Table Set Up
Benchling Notebook is one of the most user friendly experimental record keeping products in the market today. We continue to release features that refine our user experience further. As part of the recent updates we added the following visual enhancements:
- Icons for structured tables in the Table of Contents
- Removed error flags in the preview menu when inserting a Registration table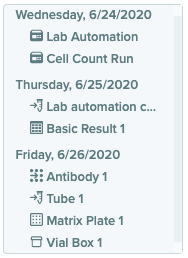 MOLECULAR BIOLOGY
Benchling's Molecular Biology is a cutting edge in silico design tool that supports the latest scientific workflows. The recent updates provide more options during sequence import and improve the primer and alignment tools.
More Options During Sequence Import
Importing sequences into Benchling has always been easy with a variety of options such as drag and drop, external database import, and text entry. With the new releases we make it easier not just to import new sequences but also enable you to start using the imported sequences right away in your research. Users can now:
- Search multiple sequences simultaneously on Ensembl by using Transcript IDs
- Quickly add sequences to Worklists
- Auto-annotate sequences during the import process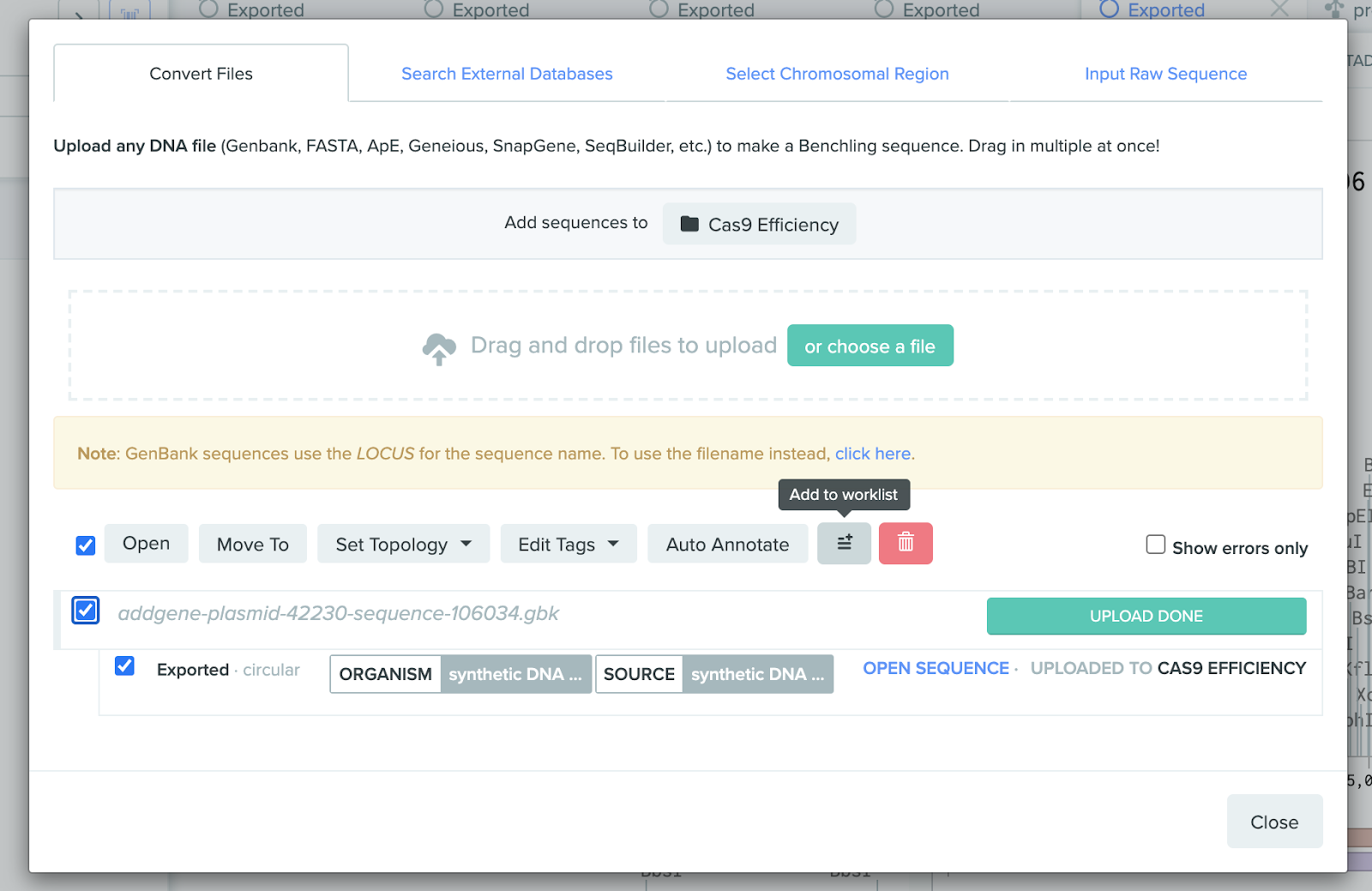 Improved Bulk Actions With Primers
Providing tools that enable high throughput sequence design and bulk actions is a core focus at Benchling. The recent releases together provide new bulk functionality and make it easier to manage and work with large sets of primers. Users can now:
- Add primers to a Worklist directly from the primer panel
- Specify constraints while bulk attaching primers
- Specify accumulative number of mismatches
- Define Registry schema for primers from within the primer tool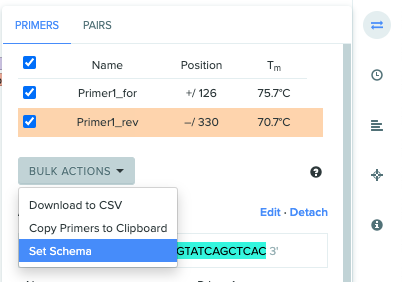 New Ways To Find And Share Alignments
Alignments is one of the core analysis tools of our Molecular Biology application that is used extensively by our users. With the new updates we make it easy to leverage the work output in your research and collaborate more effectively with teammates. Users can now:
- Find their DNA/AA alignments through global search
- Share their DNA/AA alignments through URL links
- Download .ab1 source files for newly created DNA alignments
- Perform PDF export of DNA alignments without unnecessary mismatch highlighting at the ends

REGISTRY AND INVENTORY
Registry and Inventory are core to modeling data on Benchling and managing critical in-lab samples. In addition to Worklists updates, we also had the beta release of a brand new entity type - 'Mixtures', which addresses newer R&D use cases.
Beta Release of 'Mixtures' - A New Entity Type
Samples made up of two or more ingredients such as media, buffers, and formulations are commonly used in life sciences R&D. Tracking the composition, ingredient lots, and quantities used is critical to working with these samples. To better support these types of samples, we have been working on a new entity type called "Mixtures". This past quarter we released the beta version of Mixtures that allows users to:
- Define custom schema fields
- Create data entries for Mixtures
- Bulk upload Mixture ingredients via spreadsheet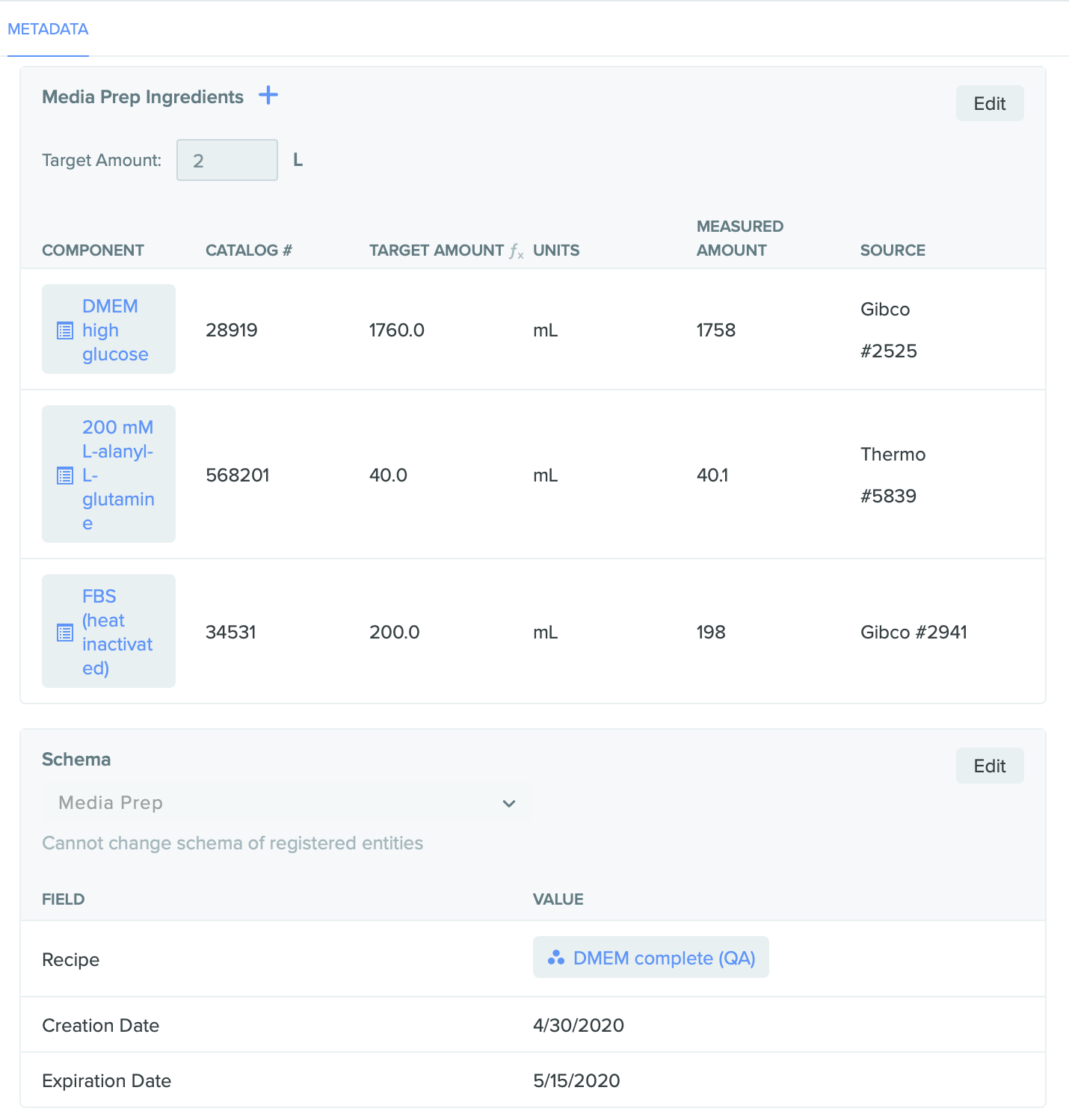 INSIGHTS
We launched Benchling Insights earlier this year, enabling users to leverage their data and run analytics seamlessly within the platform. This opens up access to comprehensive operational and scientific insights. We have added several new features to the Insights application to make this data analysis easier than ever.
Dynamic Warehouse Diagrams Make Data Search Simple
Insights allows rapid querying and visualizations of data stored in the data warehouse through a simple registry search. Now, this process is faster than ever with dynamic diagrams of your unique registry configurations. Visually see your registry schema map and select the data you want to join, calculate and/or analyze.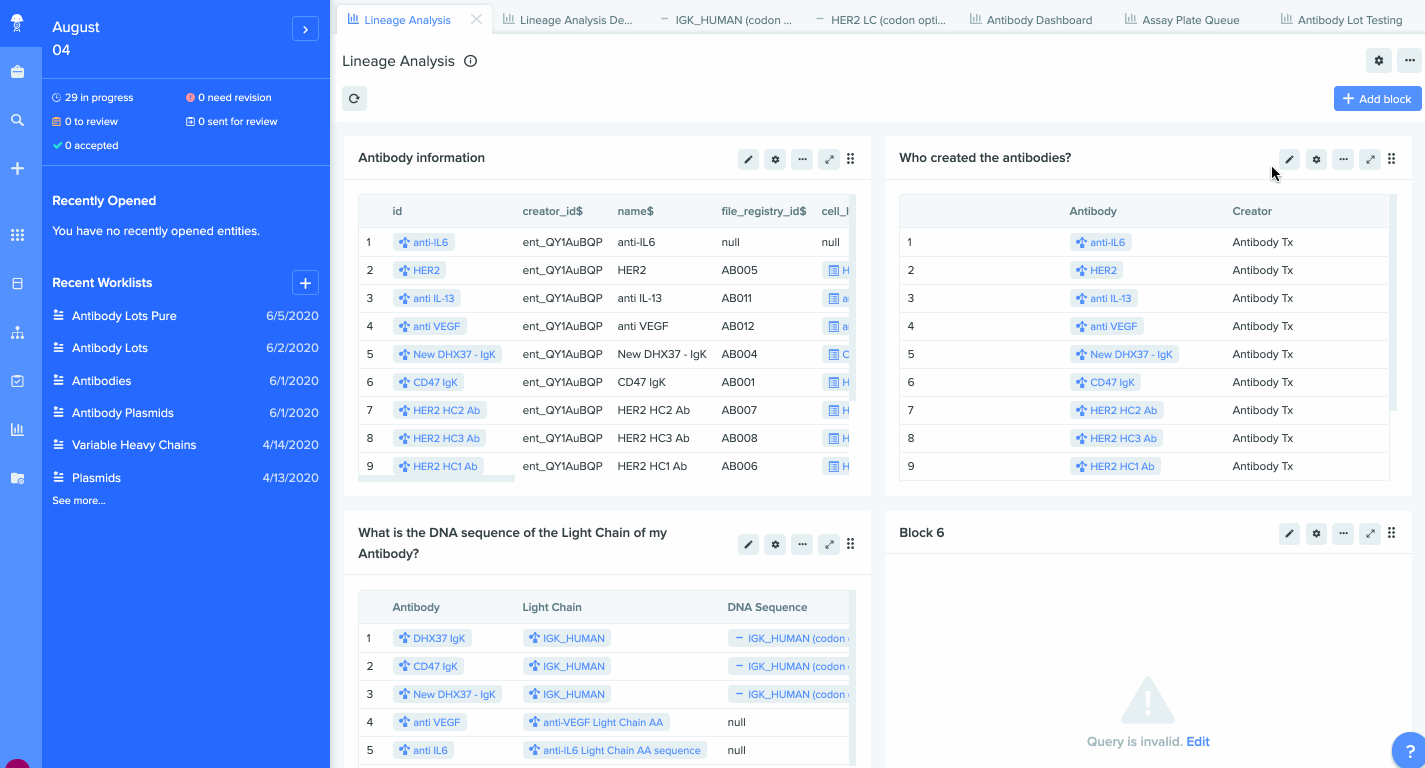 Drag And Drop Dashboard Blocks
With the new drag-and-drop dashboard block functionality, now you can easily reorder blocks in any given dashboard to suit the needs of your or your team's preferred view.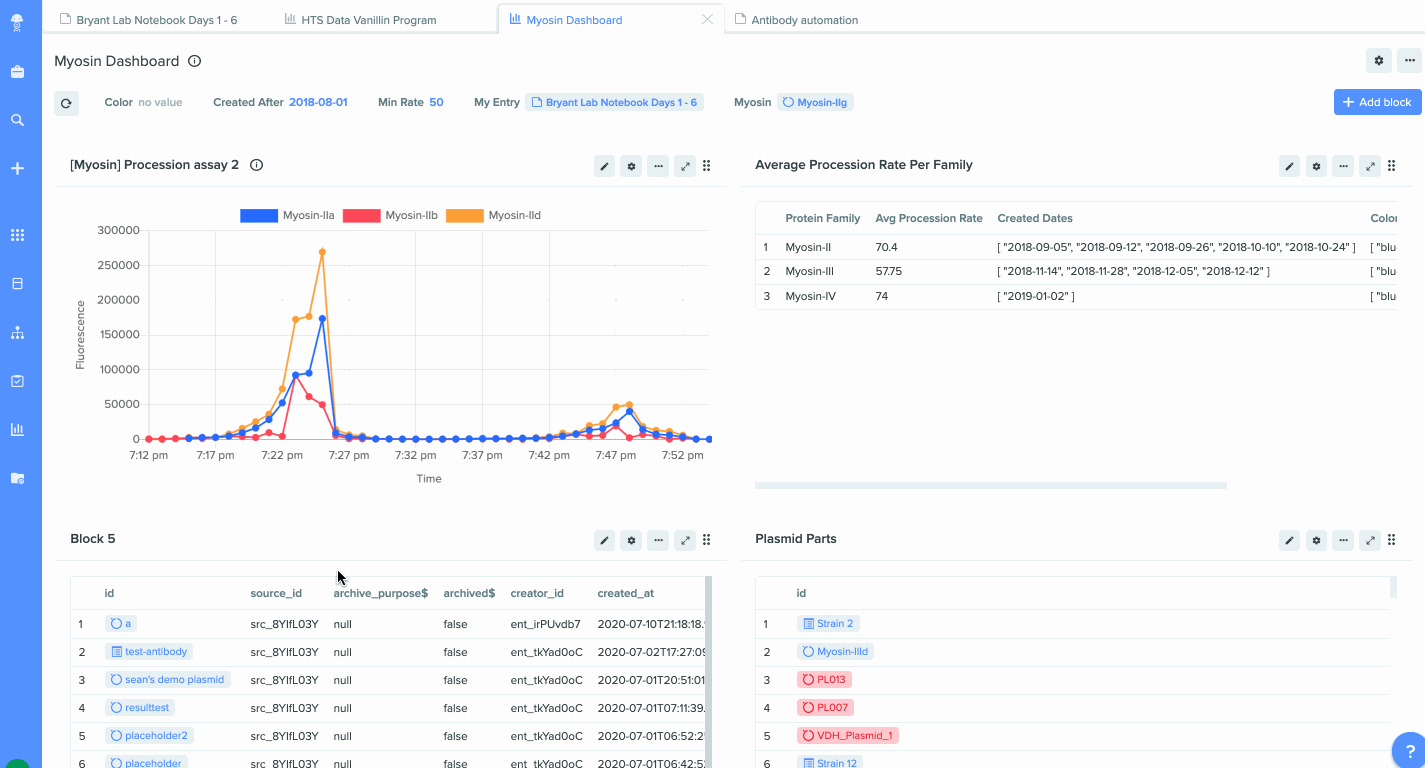 LAB AUTOMATION
Benchling for Lab Automation unlocks the potential of your laboratory hardware by integrating Benchling with liquid handlers and analytical instruments. We recently released updates which expand functionality of the Lab Automation product, improve usability, and support a wider range of use cases.
Improved Input File Functionality
To further accommodate hit picking workflows, filter input files based on schema field values, so only entities that match a certain criteria get moved to the next plate. Additionally, now set up your runs to be able to select samples that are not originally in containers. Lastly, with an expanded set of configurations, now you can stamp your plates in quadrants.
Expanded Results Parsing
Automatic parsing of output files is a core component of the lab automation product. Now, we are improving the overall usability of the product, and broadening the functionality to support a wider range of use cases:
- Support 30K+ results uploaded through lab automation
- Allow easy configuration of output file to process the file based on column name, rather than column position
- To support dilution workflows, we have added a "Final Concentration Value" column
- Now, parse output files even if the concentration has a negative value
APP PLATFORM AND SCHEMAS
Benchling's application platform and schemas are designed to help organizations manage their research effortlessly. We released several updates that significantly improve search functionality and make it easier to navigate schemas.
New Search Filtering For @Mentions
@mentioning is one of the key ways in which users can interact with and leverage entities and entries across the Benchling platform. It is also the primary mechanism to notify other users and teams for collaboration. With the recent update, we have added @mentioning as a new filter in our search. This enables users to generate a list filtered by mentioned users or items and provides another powerful way to quickly find relevant information on the Benchling platform.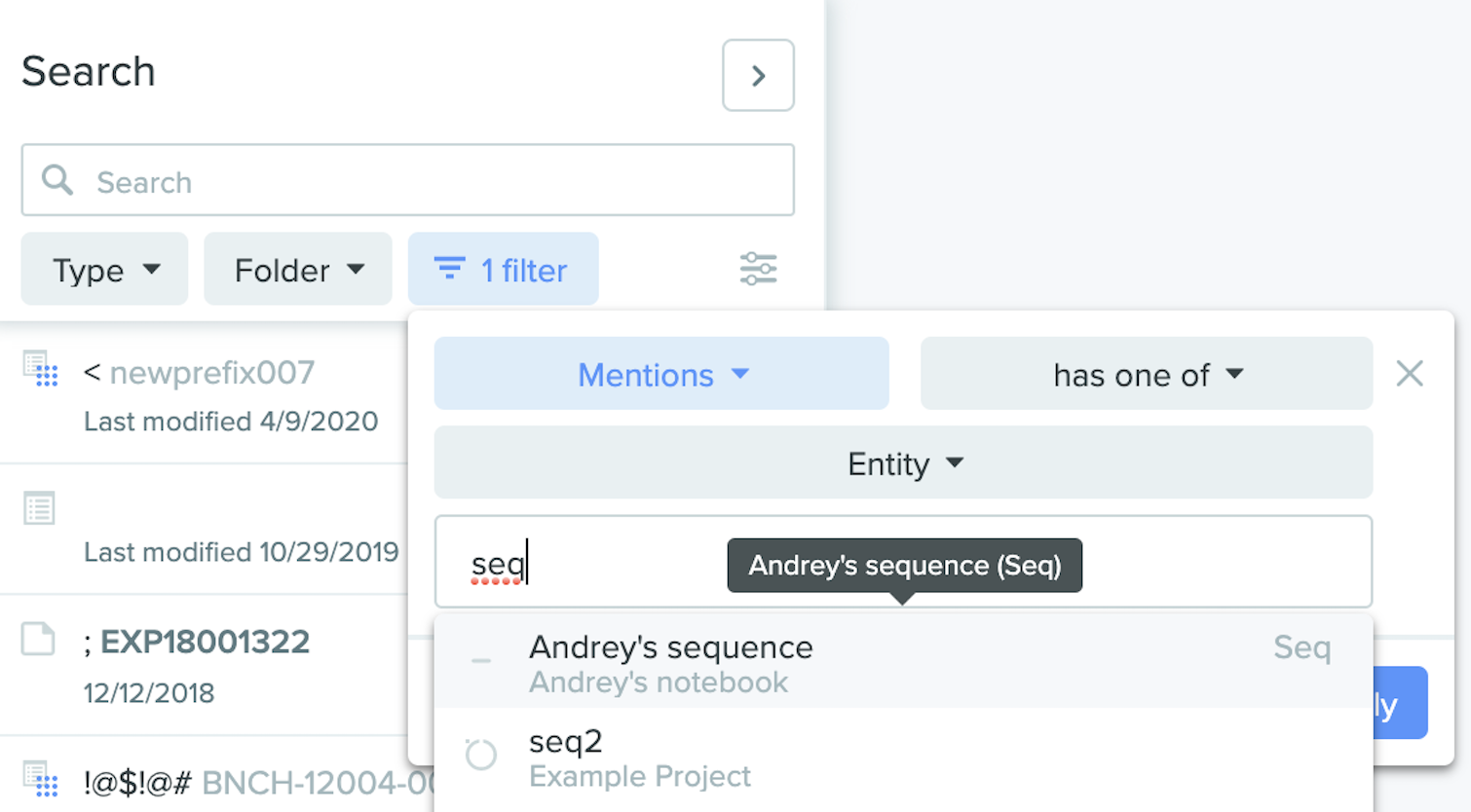 New Option To Directly Search By Field Type
Data created and managed on Benchling is often highly complex. We help our users cut through this complexity and find relevant information quickly with search filters. Field type is one of the more commonly used search filters. In the past, users had to browse through a potentially long set of schema or dropdown options to find relevant fields. With the new update, field type options in schema configuration are now searchable. This saves users time in performing targeted searches.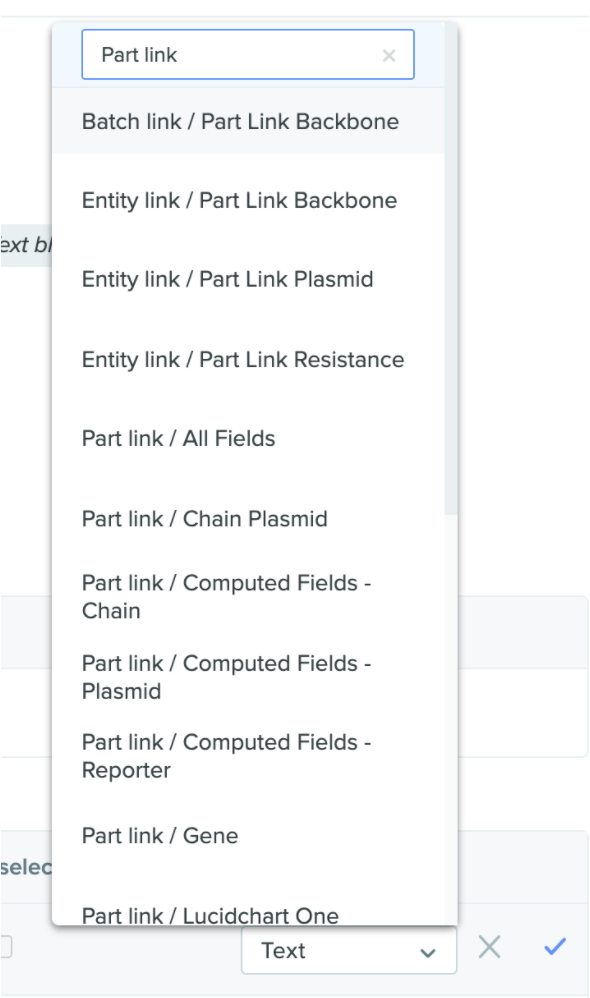 Improved Access To Schema Pages
Schema pages and sections provide users the ability to flexibly configure entity schemas and settings. With the new updates it is now easier than ever to quickly access relevant schema mages. Specific updates include:
- Directly navigate to the schema page of a linked entity from the display text in the schema field
- Open schema pages and schema sections into new tabs by right clicking to select 'Open Link in New Tab' or by using CMD+click or SHFT+click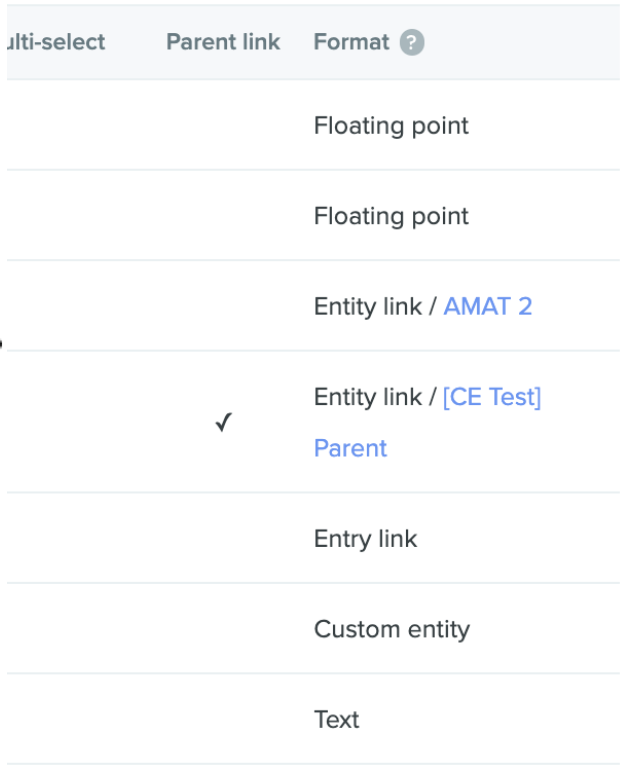 DEVELOPER PLATFORM
Our developer platform is fundamental to centralizing and standardizing all your R&D data. Benchling's APIs are built to match the flexibility and speed of modern life science R&D. Keeping with this philosophy we released several API updates that supercharge your interaction with Molecular Biology, Registry, and Search.
Expanded Filters For Search Through APIs
Benchling allows you to filter API calls to identify the specific information required. Now, we have expanded these filters to include the following to further narrow the data you need:
- mentions filter to identify those list items mentioned elsewhere in the notes section
- mentionedIn filter to list items that were @mentioned in the Notebook
- Filtering of containers based on checkout status
Expanded Set Of API Endpoints For Mol Bio
The addition of endpoints for the Molecular Biology application further enhances data parsing and capture functionalities through the API.
The addition of the PATCH endpoint for oligos allows users to update oligo information, including sequence, name, or metadata fields, using the API. The list endpoint allows users to get a list of oligos only (without associated DNA sequence). Lastly, newly added endpoints allow for rapid archiving and unarchiving of oligos.
Enhanced Registry Endpoints Improve Functionality
Further expansion of Registry endpoints make retrieval and capture of key entity metadata easier than ever.
Easily retrieve schemas by ID, or without requiring a registry ID. Additionally, the bulk update custom entities endpoint now supports the bulk update of folders. Lastly, quickly list all registry dropdowns via a new endpoint.

For a more comprehensive list of all the features released refer to our product release announcement section at help.benchling.com.