Validated Cloud Quarterly Process Overview Video
Watch this video to see an overview of the Validated Cloud quarterly process, best practices related to utilizing the Benchling validation package, understanding the release cycle, and how you can get additional support for each release.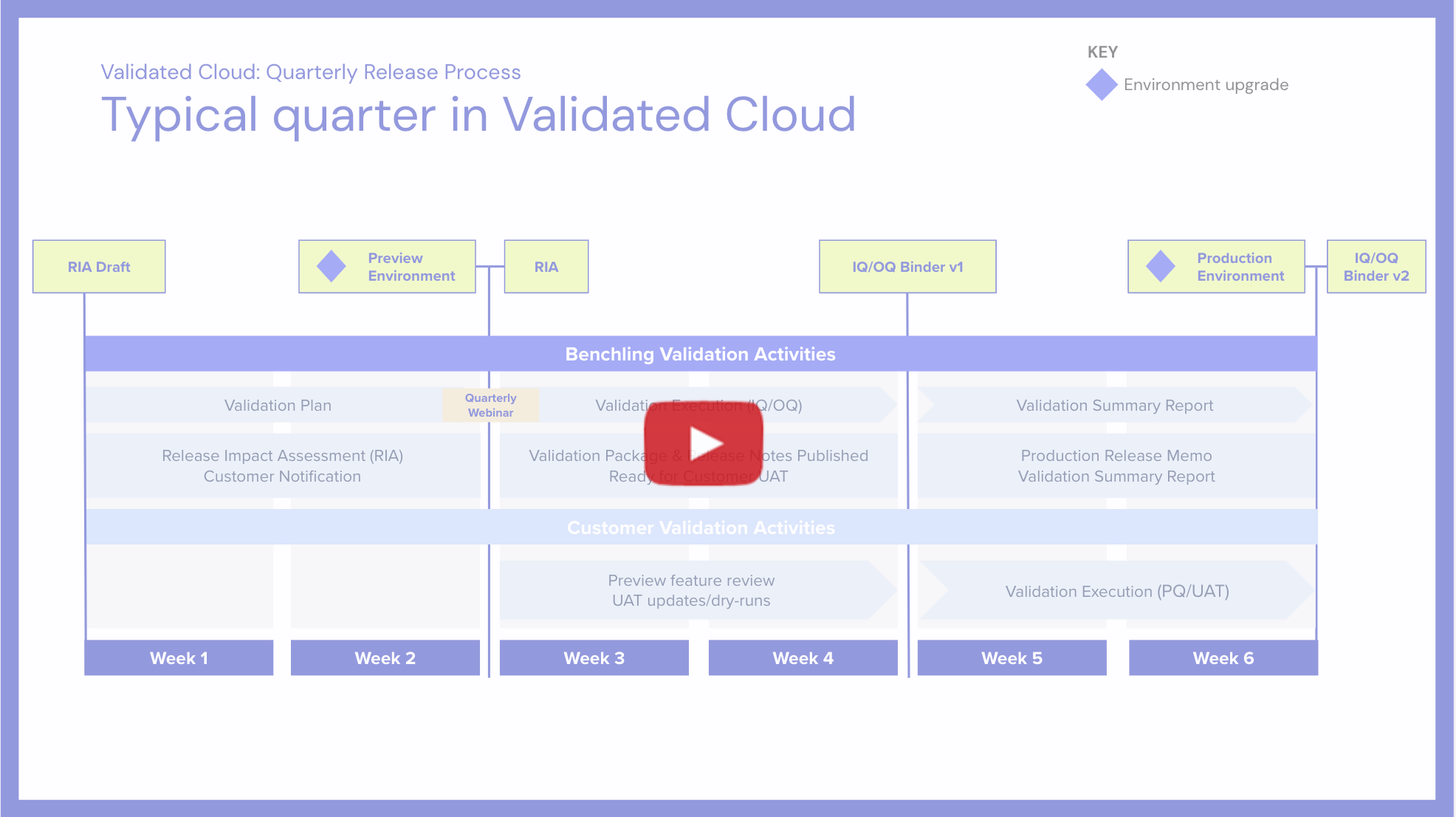 Benchling Validated Cloud FAQ
1. Benchling Validated Cloud Overview
2. Product Tenancy and Release Process
3. Considerations for Current Benchling Customers
4. Establishing and Maintaining Validation Requirements
5. Benchling Quality System, Infrastructure, and Audits
Download a PDF copy of the Benchling Validated Cloud FAQ here.
Benchling Validated Cloud data sheet
Download a PDF copy of Benchling Validated Cloud data sheet here.
Validation & Compliance: Considerations for Using Benchling as a GxP System
This whitepaper discusses considerations for companies that plan to utilize Benchling solutions in R&D workflows that fall under GxP regulations and require computer systems validation. Download a PDF copy here.
Introducing Validated Cloud: Accelerating Product Development for Life Sciences
Check out the blog here.
Request a Demo of Benchling Validated Cloud
If you are interested in this Benchling feature, please request a demo using this link.
Validated Cloud Release Information
For information on a specific release, please visit this collection on help.benchling.com.
Validated Cloud Notifications
In order to keep you updated on the schedule for the coming release, you will receive a series of important notifications.
Support
For any questions or concerns, please do not hesitate to reach out to the Benchling Support Team via chat or email support@benchling.com.